Web & Events Assistant 2016-2017
I did two co-op terms with the School of Business and Economics (SoBE) of Thompson Rivers University. At this job I was majorly responsible for planning, executing and marketing all SoBE events. The marketing and promotion of the event included social media, on-campus presentations, designing of postcards/posters and editing the website. Because of my exceptional performance with this job I was offered an extension for a second term. Please read on to get a summary of my job this semester:
Learning Objectives:
1. Understand my weak and strong suits by the end of term.
2. Make long term connections by attending as many social events as possible and add them to my LinkedIn and/or email.
3. Learn about important professional skills (good email writing, etc.). This will be measured by supervisor at the end of term.
4. Make use of Google forms, InDesign and other such useful soft wares.
Event management:
Organized and marketed two annual events under the banner 'Business Kickstart Speaker Series'
Planned a few other events like Student Centre Grand Opening, Faculty get-togethers, and MBA Social.
Planning a few other events for Winter semester: Chamber of Commerce Social, Business Kickstart event and ProtoHack.
Prioritized tasks and organized 'things to do' for completing my tasks.
Marketing the events:
Designed posters, flyers and web ads for the events on the website, using Adobe InDesign.
Helped prepare sponsorship proposals and social media marketing plans. The social media plan significantly raised our online presence. The number of Facebook likes increased with an average of 0.5% per week.
Did classroom presentations and set-up promotional tables to promote the events and talk to students one-on-one.
Prepared media kits for media houses.
Handle all SoBE social media accounts, which include Twitter, Facebook and Instagram.
Designing survey questionnaire and making sure to learn from them.
Twitter: @TRUBusinessEcon
Facebook: @TRUBusinessEcon
Instagram: @trusobe
My poster design for mural contest: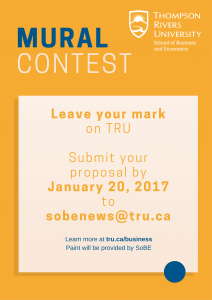 Other assistant work:
Collecting RSVPs for events.
Doing assistant chores for my boss. These jobs included preparing her documents prior to meetings, making calls/emails on her behalf and help with anything else she needs assistance with.
Preparing the gift, hotel room, making travel arrangements and campus tour for the keynote speakers.
Summary:
I completed all my learning goals and I am very satisfied with all the experience that I was able to gain from this job. I am very glad to have been offered another semester with SoBE and hope to make the most of it. Watch out for the next term's learning goals and work term summary! 🙂